20th ANNIVERSARY RECAP
Posted on Sep 23rd, 2019
The US-Japan Leadership Program celebrated its 20th Anniversary this past July, with close to half of USJLP's entire membership convening in Tokyo from locations across the globe to commemorate the milestone occasion. After forging 20 USJLP classes over 20 summer conferences, we could not be more proud of the 451 American and Japanese leaders who now comprise the program's vibrant, diverse and extremely dedicated network. The friendships and opportunities born out of the Program's mission have only continued to grow and strengthen exponentially with each successive year, and this special anniversary occasion was a prime opportunity for members to celebrate the success of the Program with a focus on what makes USJLP truly unique.
As the penultimate activity during the 20th Anniversary festivities, attending Fellows, Delegates and family were treated to a number of "Uniquely USJLP" experiences in/around Tokyo that took full advantage of the USJLP network to open up special tours and experiences that might otherwise be rare, or very difficult to arrange without the USJLP network's connections. Two such experiences included a private tours of the USS John McCain and JSS Murasame at Yokosuka (above left), organized by USN Commander Micah Murphy (19,20) and JMSDF Commander Tomoaki Nakano (19,20), and a sprinting technique class taught by three-time Olympian Dai Tamesue (19,20) at Brillia Running Stadium (above right).
The main 2019 conference week brought together 43 Delegates (22 American and 21 Japanese) representing a wide-array of talent and backgrounds, including: state and federal government, human rights, military and defense, journalism, publishing, social impact, sports, biotech, finance, law, non-profit, performing arts, music, entrepreneurship, non-profit, technology, health care, and the private sector. The conference week in Kyoto, Hiroshima and Tokyo wove this diverse class together by providing a framework for mutual sharing, respect and friendship through daily discussions, bonding activities, and off-site excursions unique to Japan.
Click here to learn more about the 2019 Delegate class.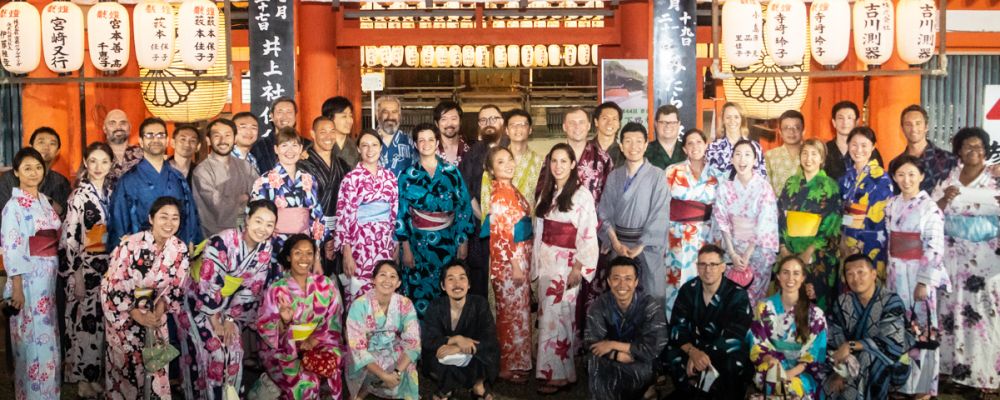 Above: Class of 2019 Delegates pose together after enjoying the Mitarashi Matsuri (summer festival) at Shimogamo Shrine the evening of their first full day together in Kyoto on Monday, July 22.
In plenaries, Delegate experts led discussions on pertinent issues and topics of interest to both sides, including: the future of democracy, global threats and disruptions facing the US-Japan Alliance, current challenges and opportunities unique to Japan, the social implications of an aging society, tech's impact on our lives, and strategies for taking calculated career risks and tapping in to creative leadership. The diverse array of insights and perspectives and raised during the plenary sessions were further expanded upon in intensive small group discussions held several times over the course of the week.
In addition to daily discourse, Delegates furthered their appreciation and understanding of Japan's historical and cultural heritage by visiting sites in Kyoto such as Shimogamo Shrine, Ryoan-ji and Myoshin-ji temples, and through an array of unique cultural experiences including a local festival while dressed in summer yukatas, a Hiroshima okonomiyaki cooking class, guided Zen meditation, a private tour of Japan's most famous rock garden, and rooting for the Hanshin Tigers at the hallowed grounds of Koshien Stadium. As part of the initial icebreaker the first day, Delegates engaged in a traditional Japanese drumming workshop which served to energize the group for the packed week ahead. Most importantly, the group was honored to meet hibakusha (atomic bomb survivor) Ms. Koko Kondo, who's moving talk helped prepare the group for a contemplative day in Hiroshima on Thursday, July 25.
| | |
| --- | --- |
| | |
The conference week offered Delegates chances to engage with one another while enjoying hands-on Japanese cultural experiences such as joining a traditional Japanese drumming workshop on Monday, July 22 (above left), and learning how to cook authentic Hiroshima-style okonomiyaki on Thursday, July 25 (above right).

Above: On Tuesday, July 23 the Delegates enjoyed a lively "fan appreciation night" (complete with special edition jerseys!) at a Hanshin Tigers vs. Yokohama Bay Stars game held at Japan's oldest and most famous ballpark, Koshien Stadium.
Special experiences in Kyoto included a private, after-hours tour of Japan's most famous Zen rock garden and temple, Ryoan-ji (above left), a rare opportunity made possible by Rev. Daiko Matsuyama (15,16), and the chance to learn Zen meditation on the temple grounds of Shunko-in (above right), hosted and led by Rev. Taka Kawakami (08,09).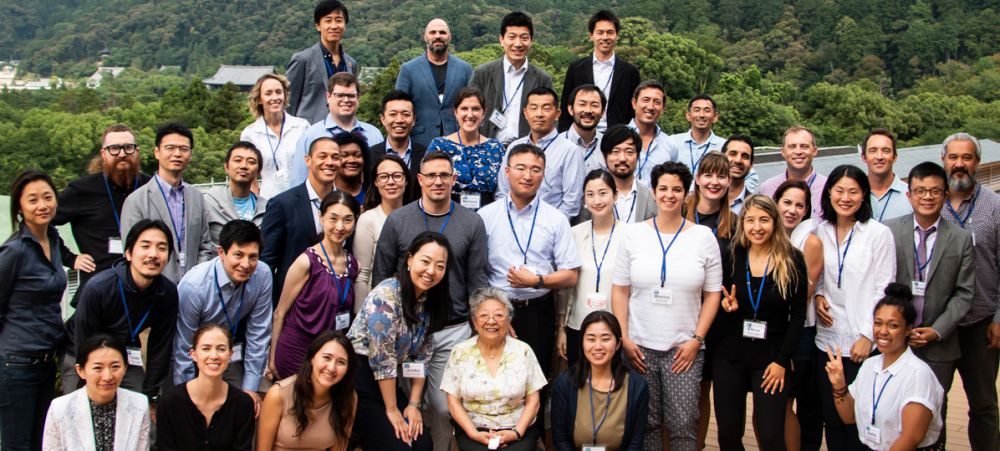 Above: Survivor and peace activist Ms. Koko Kondo (seated center) posed with the Delegates following her talk on Wednesday, July 24 in Kyoto. Ms. Kondo kindly accompanied the group the following day to Hiroshima and provided a personal tour of the monuments in Hiroshima Peace Memorial Park.
Following their day-trip in Hiroshima, the Delegates traveled to Tokyo where they were enthusiastically met by 150 Scott M. Johnson Fellows representing all nineteen previous USJLP classes, half of whom flew in from locations across the globe just for the occasion. Delegates and Fellows then spent the final two days engaging in meaningful exchanges, while simultaneously strengthening and forging lifelong bonds across the network. The week culminated with over 350 attendees coming together in spirited celebration of USJLP's first 20 years of success.
| | |
| --- | --- |
| | |
The 20th Anniversary presented a special opportunity to honor of the visionary leadership of Dr. George R. Packard (pictured above photo right, standing far right), who founded and launched the Program in 1999 as his first major initiative as President of the United States-Japan Foundation. Dignitaries joined USJLP Delegates and Fellows for a dinner in Dr. Packard's honor on July 26, with remarks by Mr. Minoru Makihara, Chairman Emeritus of Mitsubishi Corporation (above, far left), and Hon. Taro Kono, Foreign Minister of Japan (as of the time of the event) and member of the USJLP inaugural class of 2000 (above center). Amb. Ichiro Fujisaki, President of the America-Japan Society and former Ambassador of Japan to the U.S., also gave remarks and kicked-off the evening with a toast (above right).
| | |
| --- | --- |
| | |
USJLPers contributed to the festivities of the July 26 evening celebration with a stunning collaborative performance by violinist Haruka Horii (19,20) and ballerina Emi Hariyama (16,19) (above left), and a number of Scott M. Johnson Fellows from across USJLP classes gave moving testimonials on the impact that both George Packard and the Program have had on their lives (above right).

Above: Scott M. Johnson Fellows who helped forge USJLP's first decade as members of the Classes of 2006-2008 pose for a commemorative photo together at the Program's 20th Anniversary celebratory dinner on July 26, 2019 in Tokyo. Members from these classes traveled to Tokyo from across the U.S. and Japan, as well as China, the U.K., and Switzerland just to reunite for this milestone occasion!
The fun and inter-class bonding continued beyond the official conference week with Fellows organizing multiple side trip opportunities that took advantage of the network's connections and the special occasion of having so many USJLP friends in Japan at once! One of these unique trips that took place was a multi-day study tour in Okinawa co-organized by David Janes (02,03) and Nobumasa Akiyama (09,10) that, among the many special visits at schools, military bases and monuments, featured a tour and panel on local Okinawan environmental issues at the Okinawa Institute of Science and Technology (photo above left). Another lucky group spent an unforgettable three days camping on the beautiful beaches of Kozu island thanks to the organization of Hardy Kagimoto (17,18).
Return to Homepage